Skip to Content
Hospitality Bath Remodel: The Perfect Solution For a Unique Property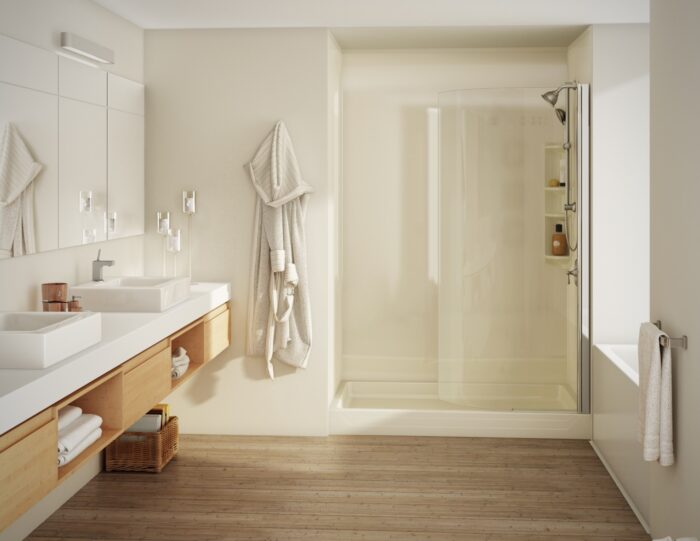 If you're managing a hotel, motel, lodge, or resort in an out-of-the-way location you may find the idea of doing a bath or shower renovation daunting however bathrooms are key areas of comfort for potential guests. Traditional bath re-model options involve messy demolition and downtime, hiring plumbers, tub and tile installers, shopping for a multitude of accessories, negotiating prices, and pulling it all together so that it can be done as quickly as possible. In addition to all of the work and time that is invested in this process, you must also ensure your bath and/or shower remodel will add value to the guest experience. Will your customers appreciate the quality materials and finishes in the bathing area? How much will a beautiful new bath and/or shower add to the charm of your property and location?
Whether you're planning for a large or small-scale bath renovation, update, or remodel, as a busy property manager you're faced with the challenge of trying to find reliable, skilled tradespeople while staying on budget and within a predetermined timeline. Too much downtime means lost revenue and lost the opportunity to make a good impression on guests. Even when you do find a contractor, they often don't stay in business as long as the life of the products you've paid for and installed. In addition, many manufacturers will not warranty items that weren't professionally installed by specified trades.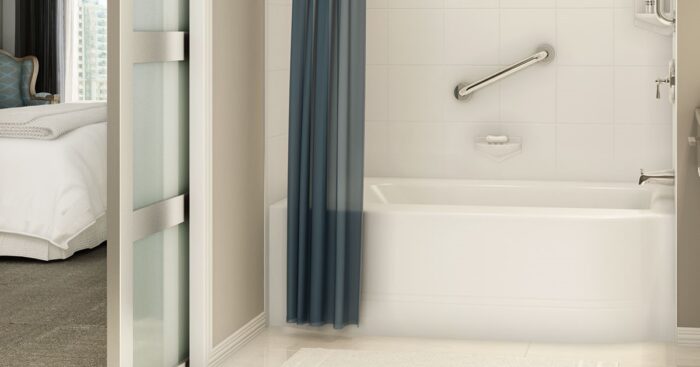 One of the biggest considerations for any seasonal property manager is their availability for having the work done. Any incomplete bathing area means lost revenue and the potential for bad reviews. Having a turn-key solution that guarantees the work can be completed on multiple units with no messy demolition and within 24 hours might significantly impact your decision to renovate.
If you're in a remote location without many amenities it's especially important that a bath remodel to be done by a qualified, professional company with a solid history of installing quality products and providing quality service. You probably recognize the Bath Fitter brand for residential bath remodels but have you ever considered it for your commercial project? Bath Fitters' experienced, trained team of professionals will take care of every step of the process for you. From measuring the space, manufacturing custom fit, fully installed, durable acrylic bathtubs, showers, and watertight one-piece-seamless wall systems to all the hardware and accessories required to complete the job. A major added benefit to using the Bath Fitter system is that if disturbing the walls or damaging the floor is of concern, Bath Fitter's original acrylic tub and wall system fits right over the top of the existing one eliminating any potential risk or worry. Bath Fitter will deliver on time and on budget, leaving the bath area fully cleaned and ready to use the next day!
Bath Fitter is a North American pioneer in bath remodeling since 1984. For more than 35 years they have redefined how hotels/motels/lodges, apartment buildings, and large facilities renovate their bathrooms for better bathtubs and best value. Famous for, No Demolition and One Day Installation, Bath Fitter is an industry leader and successful franchise that manufactures their own products right here in Canada.
Bath Fitters' well-established reputation along with their Best-On-Site Commercial Solutions 5 Year Warranty assures that they are an excellent choice for any type of commercial bath application. It might seem impossible to have one company do it all but Bath Fitter is one company that checks all the boxes!
Some of Bath Fitter of Alberta's Canadian partners include The Best Western Inn, Travelodge, Crestwood Hotel, Boardwalk, The Foothills Hospital, Government Of Alberta (divisions of), Claresholm Social Housing Authority for Seniors Living, and Blairmore Seniors Housing Authority.

COVID-19 safety compliance is a necessary measure for those most at risk. Bath Fitter is committed to safety first, from the initial meeting with the commercial sales specialist to the installation by the certified expert technician, current safety protocols recommended by the Centers for Disease Control and Prevention will be respected.
Ready to kick off your own bath renovation project? Contact a Bath Fitter expert and start planning today.