Skip to Content
Bath Remodeling Made Quick and Easy for Property Managers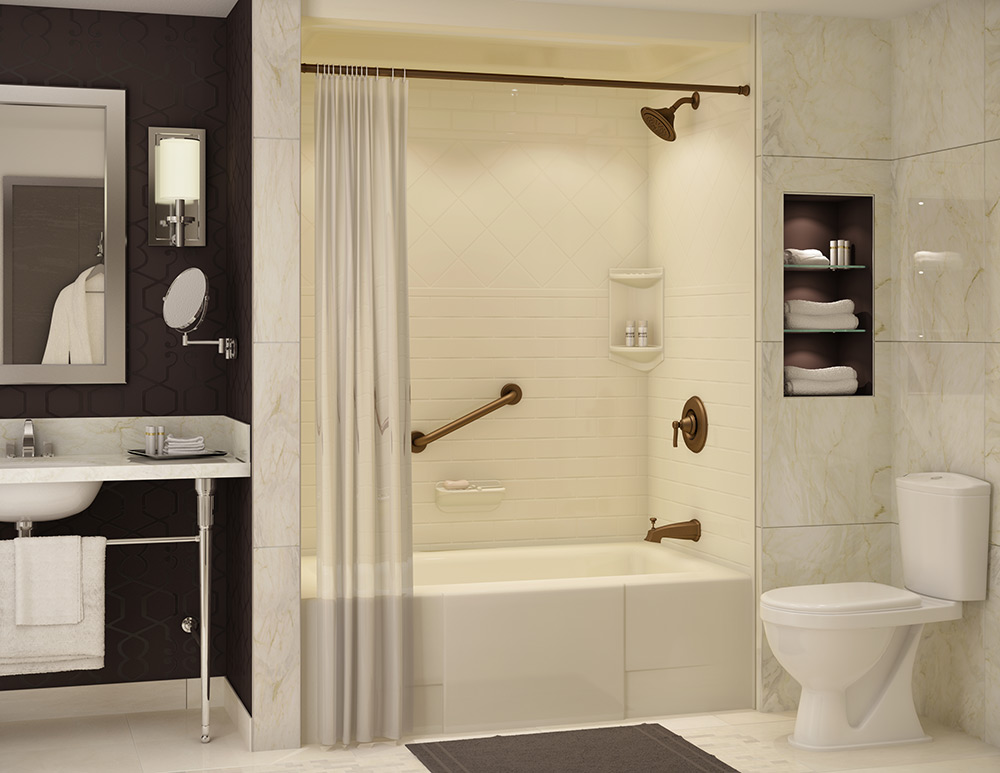 Bath Fitter Hotel Bath Remodel
Planning a multi-unit bath renovation or remodel may seem like a daunting task for a busy Property Manager, especially since a traditional bath remodel involves a lot of coordination. You generally have to plan for some messy demolition, hiring plumbers, tub and tile installers, shopping for a multitude of products and accessories, negotiating prices, setting deadlines and coordinating downtime to do the work and then pulling it all together so that it can be done on time and on budget. A big concern is that too much downtime means lost revenue or the potential to displace residents.
In addition to all of the work and time that is invested into the coordination of the remodel, you also have to ensure that you've protected your investment and increased your property's value so it's crucial that whoever you hire has solid experience with reliable, skilled, tradespeople to do the work.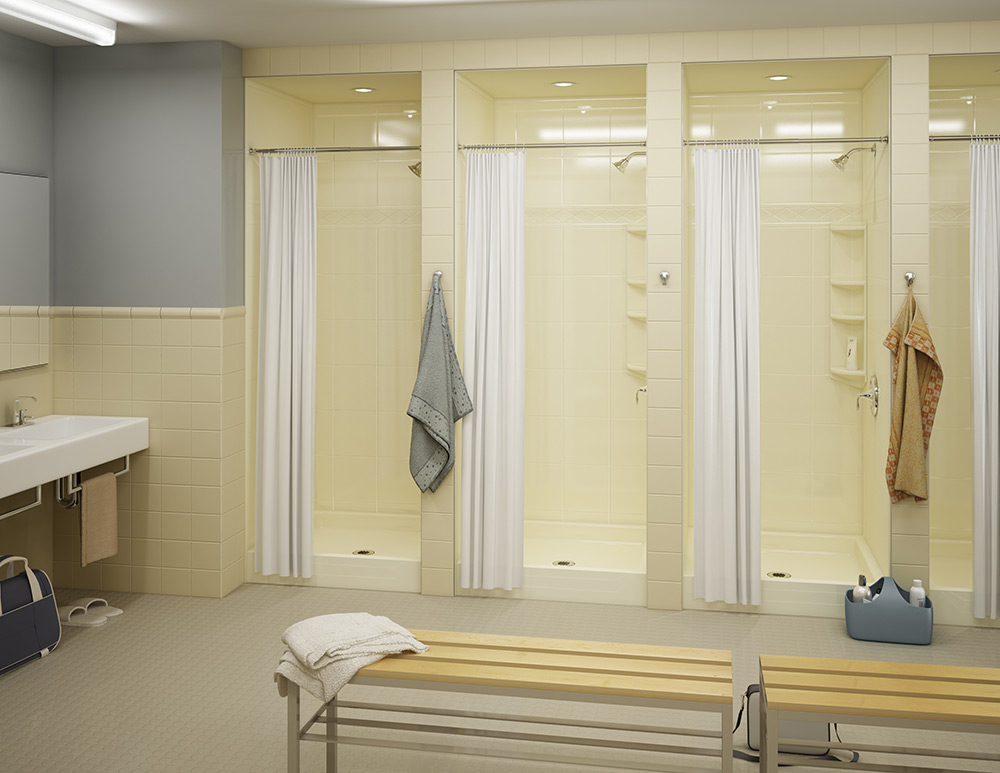 University facility: Bath Fitter multi-unit shower renovation
Using quality materials is definitely important because you want to get the most out of this renovation and you don't want to do it again any time soon. Lower quality materials like fiberglass are porous and with daily use can mold and wear down quickly while reglazing or painting is a very short term solution that doesn't look great and can literally start to chip away. On top of all that, it's not unusual for hardware to malfunction after it's been installed and you may suddenly find yourself budgeting for another fix. Unfortunately the do- it- yourself option can also prove to be frustrating and limiting since many manufacturers only warranty items that were professionally installed by specified trades.
If you manage the type of property that requires special consideration for residents who are elderly, have mobility issues or safety concerns you may need to install an easy access low threshold shower or some extra safety equipment. At the end of the day success means that your residents, tenants, or guests will be safe and impressed and having a bath or shower that is beautiful, durable and functional will solidify your return on the investment for many years to come.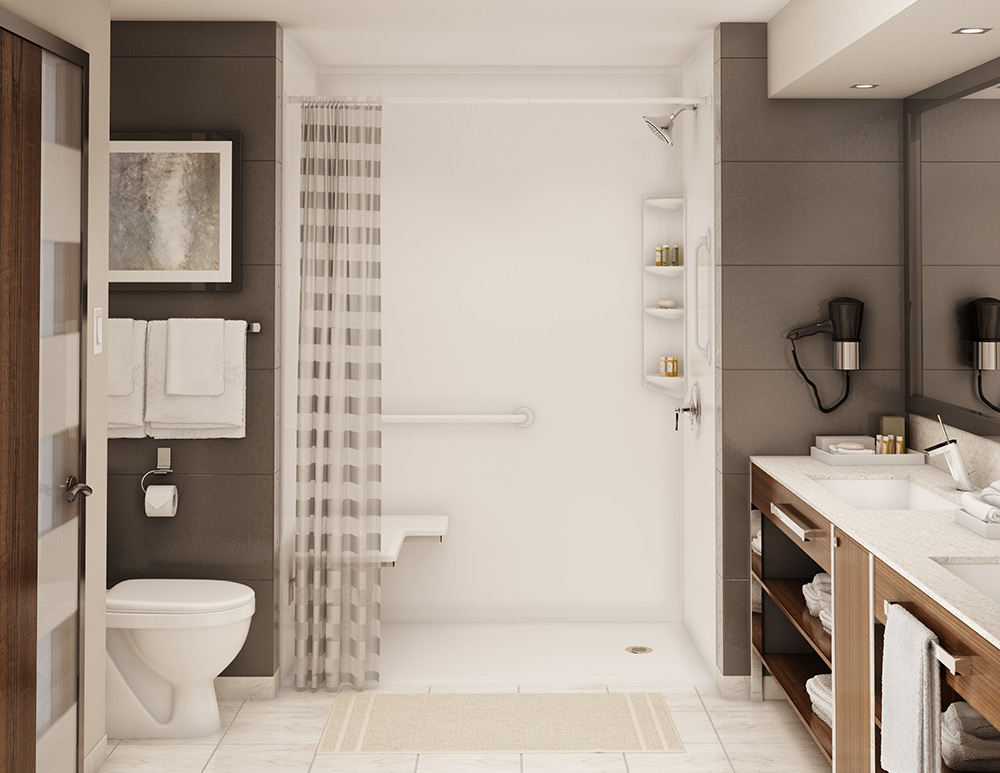 Bath Fitter Easy Access Tub-to-Shower Conversion with safety features
Most people recognize the Bath Fitter brand for residential bath remodeling but have you ever considered Bath Fitter for your commercial project? Bath Fitter started as a commercial bath remodeler in North American over 35 years ago creating solutions for large scale, turn-key bath remodeling; perfecting how bath areas can be updated for the better value, better installation and better on-site warranty.
The certified, factory trained experts at Bath Fitter will take care of every step from measuring the area, manufacturing custom fit quality acrylic tubs, showers and walls, to the installation of complete systems including hardware and optional accessories. Bath Fitter's acrylic products are non-porous won't mold or mildew, are durable and will literally last forever. The unique one-piece seamless wall system does not use grout and is designed to be watertight ensuring no leaks. Everything is customized to your specifications and budget, with minimal downtime and no mess to clean up. Best of all Bath Fitter's One-Day installation means bathrooms will be ready to use within 24 hours. This combined with Bath Fitter's guarantee and longevity provides you with the comfort of knowing that Bath Fitter will be around to help you for many years to come.
Ready to kick off your own bath renovation project?  Contact us at: Bath Fitter Commercial Solutions and start planning today or call: 1-403-553 – 9307 Email us at: info@bathfitter.ca